A Paradigm Shift: Heading towards Digital
Chanakya Post has gained a reputation as a prominent Nepalese Economic magazine on its journey among the corporate and business community of Nepal. With tens of thousands of monthly subscribers, it has been hailed as the most effective medium to debate regarding the business and economic matters of the country. Nepal has undergone significant social, political and technological shifts which has most profoundly changed the way people communicate. The wide adoption of Internet has created huge opportunities for the Internet Media companies to disseminate information instantly across all the regions of the country. The increasing trend of the internet forced Chanakya Post to share their content through the digital platform.
Improved SEO rankings resulted more than half of its traffic coming from search engines.
Chanakya Post wanted a news portal that will not only help them create, edit and share news across multiple categories but also want to deploy strong SEO strategies unlike other news portal in the region. In the context of Nepal, enabling strong SEO strategies is a challenging task as people use English search queries while almost all the news portal share contents in Nepalese Language. In order to tackle this challenge we develop in-built SEO tools which lets user define the meta title, meta description and keywords for the individual news post. This has helped Chanakya Post to have better search engine ranking resulting more than half of its traffic coming from search engines.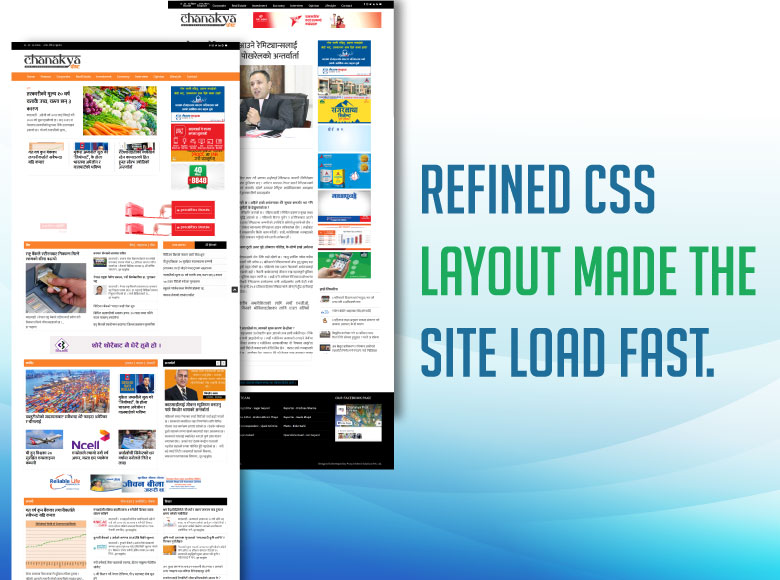 The trends of Nepalese youth migrating to foreign countries also brought up with a requirement to make the website load fast in different countries. To do so, we have designed their news portal with refined CSS layout. Mobile Responsiveness was the another need for Chanakya Post as more than 75% of its traffic comes from Mobile Devices. Not only the audience of the portal, but also the advertisers benefit from the responsive mobile layout with dynamic advertising spaces, as they were able to post different sizes of advertisements on different devices that would make it possible for them to get better engagement.
Sophisticated CMS reliably and consistently let the editors create, edit, publish and share news.
Having shifted from the traditional approach to the digital platform, the overall team of Chanakya Post must also be able to create, edit, publish and share news reliably and consistently with no complications and glitches. The development of the sophisticated Content Management System upon recognizing the need of Chanakya Post to have tailored permission management, multi-platform capabilities and detailed analytics of the activities within the portal was the another major success of the project. The built-in editing tools have been aimed at helping editors re-size images to the right specifications, guide them to add related tags and categories, allow them to link specific advertisement or backlinks in a specific news page and boosted their creativity of presenting news by supporting multimedia files of different formats.
Nearly a year into their digital publishing, Chanakya Post was even able to strengthen its position as one of Nepal's leading economic news agencies. Now, unlike the previous days, they have been able to expand their voice to millions both in and out of Nepal and make their presence much more effectual.