Positioning authentic taste from the Himalayas in the heart of Goldcoast, Australia
With the increasing internet, mobile and social media penetration rates there has been an immense need for brands to use digital platform to connect with their customers. This need has even been crucial for the Small and Medium Scale Enterprises as 90% of businesses of this size fails in the first two years of operation. More than most other factors, the role of the poor and unorganized digital strategy has been critical to this high rate of failure.
Embedded Analytics Tools gave Yeti insights on customer interest.
with an aim to promote Nepalese Cuisine in Goldcoast, Australia, Yeti Restaurant and Bar had an immense need to position their image uniquely among the local Australian and South Asian Immigrant customers. Well! They had a vision but what they need was expertise as being a restaurant in the early stage, they could not afford an expert team to realize this functional need. Upon subscription of the SME Global Package which includes Logo Designing & Animation, Social Media Integration, Search Engine Optimization, 20 sets of Advertisements and Website Design & Development with one year of maintenance, Yeti Restaurant and Bar have been able to gain access to the infrastructures required to craft their digital strategy to grow their business.
"The day we launched our website, we saw a huge increase in traffic both on our website and in the restaurant."  -Prakash Pandey, Owner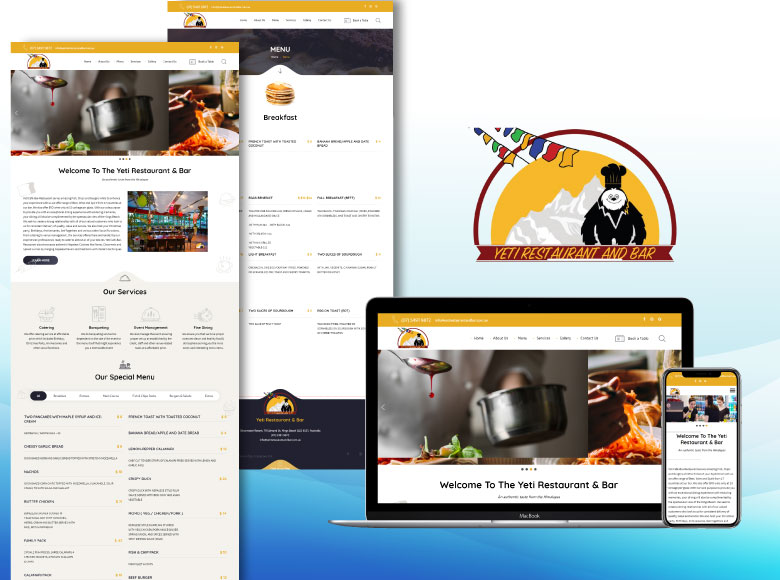 Even when this bundled package helped them with resources to market in different digital platforms, they first want to win the internet. As Customers want to know what the restaurant looks like, menu options, hours of operations, location and methods of contact before coming to the restaurant for the first time, Website was a crucial tool to make the first impression. From fast load time to easy navigation to user friendly and attractive design to SEO optimization to responsive design, the website of Yeti Bar and Restaurant covered it all. The unique design of the website helped them to communicate their message uniquely to their prospective customers.
Updating title tags and meta descriptions for each post using built-in tools to improve the hits from local audiences.
The in-built SEO tools helped them to update all their title tags and meta descriptions individually for each post from the CMS which increased their web traffic. The analytics tools that has installed had helped Yeti to analyze the behavior of their audience and profile the customers as per the behavior they show in the internet. The in-built analytics tools have also helped them uncover their customer's interest. Based on the data they have been analyzing the customer trends towards their menu items which has redefined the way they segment, target and position their statements based on the behavior shown by their customer.
Since it has been an extraordinary journey for a new restaurant who have successfully utilized the web platform to identify customer trend and position their marketing statement. As they have successfully realized their first marketing objective, now they are focused to deploy Social Media Marketing strategies.